Graduate Students
In a nutshell, our lab provides you with opportunities to (1) become a certified MRI operator on 3 different machines (one in Davis and two in Sacramento) with the skills to run neuroimaging studies, (2) benefit from rich datasets that have already been collected and are ready to analyze, (3) collaborate with other scientists at both the Center for Mind and Brain and the broader UC Davis campus, (4) gain teaching experience while being supported by UCD resources such as the Teaching Assistant Consultant program, (5) learn cutting-edge statistical techniques from renowned faculty in Human Development, Psychology, Neuroscience, and other departments… and even more!
If you're a prospective applicant to the Human Development graduate programs, please visit the link below for more information:
Human Development Graduate Group
Contact us to learn more about the studies underway, sit in on a lab meeting, or discuss how you can join the lab.
Undergraduate Students
We are always looking for bright and motivated undergraduates with a passion for conducting research! 
Requirements:
(1) A minimum commitment of two to three quarters is required for consideration.  Each quarter a student is involved in the lab, he or she is encouraged to enroll in HDE 99 or 199 for 3 credits, which translates to 9 hours per  week.  Students can also volunteer, but applicants willing and able to work more units and quarters are given priority.
(2) General familiarity with Microsoft Office applications (Excel, Word) is a must; experience with SPSS or computer programming is a plus.  Students may be responsible for running subjects and must be comfortable working with others in a research setting and have great communication skills.
If you are interested in joining our lab, please email your résumé and cover letter to: TEENlab@ucdavis.edu.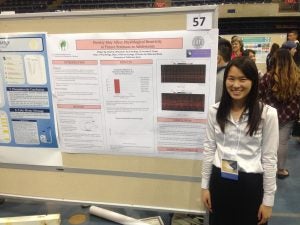 Sandra Avila – Socio-Emotional Functioning in Adolescent Girls Is Associated With Alterations in Prefrontal Cortex and Amygdala Volumes